(281) 955-5816
Concepts in Concrete specializes in a variety of horizontal/vertical, interior/exterior coatings tailored to residential and commercial applications. With over 14 years of experience, CIC can provide coating systems to suit your needs both in terms of appearance and performance making them ideal for everything from your garage or patio to an office lobby or factory floor.
CIC's experience with all product materials means your design, texture and color options are virtually unlimited. Their research and development teams have perfected coating systems, that can not only protect against chemical attack, but can provide an anti-slip profile for safety, as well as a high gloss finish for look.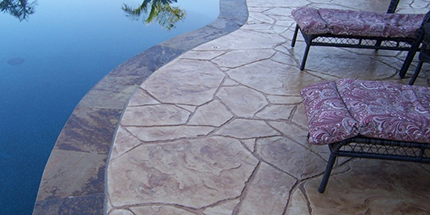 Concepts in Concrete custom designs every application making them perfect whether they're for your home or business. From commercial, heavy duty abuse, to the residential foot traffic. By incorporating different types of aggregates and color flakes, CIC produces floor coatings that are extremely durable, cost effective, with very low maintenance. They're long lasting, look great, and protect your investment.